1968
Mercedes-Benz 250SL
FULL RESTORATION 
Full Restoration
1968 Mercedes-Benz 250SL
Vehicle received as a non-runner
Rust repairs on guards, sills, inner rear arches, floor pans, boot floor and quarter panels.
Complete re-spray and colour change
Interior restoration, new seats and new soft top
Mechanical and brake system majorservice
Vehicle handed to owner – registered and ready to drive
RESTORATION PROCESS
This Mercedes 250SL Pagoda arrived at our facility as a non-runner. The car was purchased by the owner to restore and drive.
The vehicle had a significant amount of rust that needed to be corrected. Rust was present on several panels although the major affected areas were inside the rear wheel arches and the rear ends of the sills.
The vehicle also received an interior make-over with new seats, carpets and a new high quality soft top.
The vehicle was re-sprayed in a period specific factory white. The wheels were also changed from bundt style alloys to the original period appropriate steel rims with hub caps.
The vehicle also received a major mechanical service and a new radiator was installed.
The vehicle was presented to the owner as a registered vehicle and ready to be driven on the road.
Engine and mechanical major service with new cooling system elements 
Interior refurbished – new carpet, seats and high quality soft top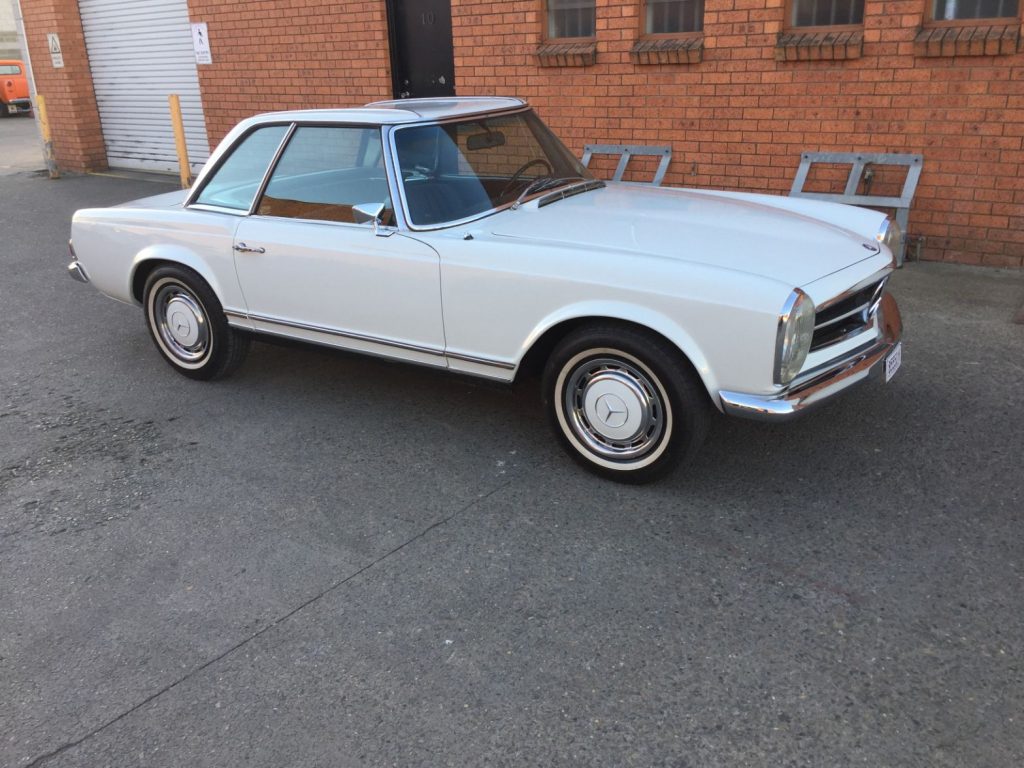 Vehicle delivered to owner – roadworthy and registered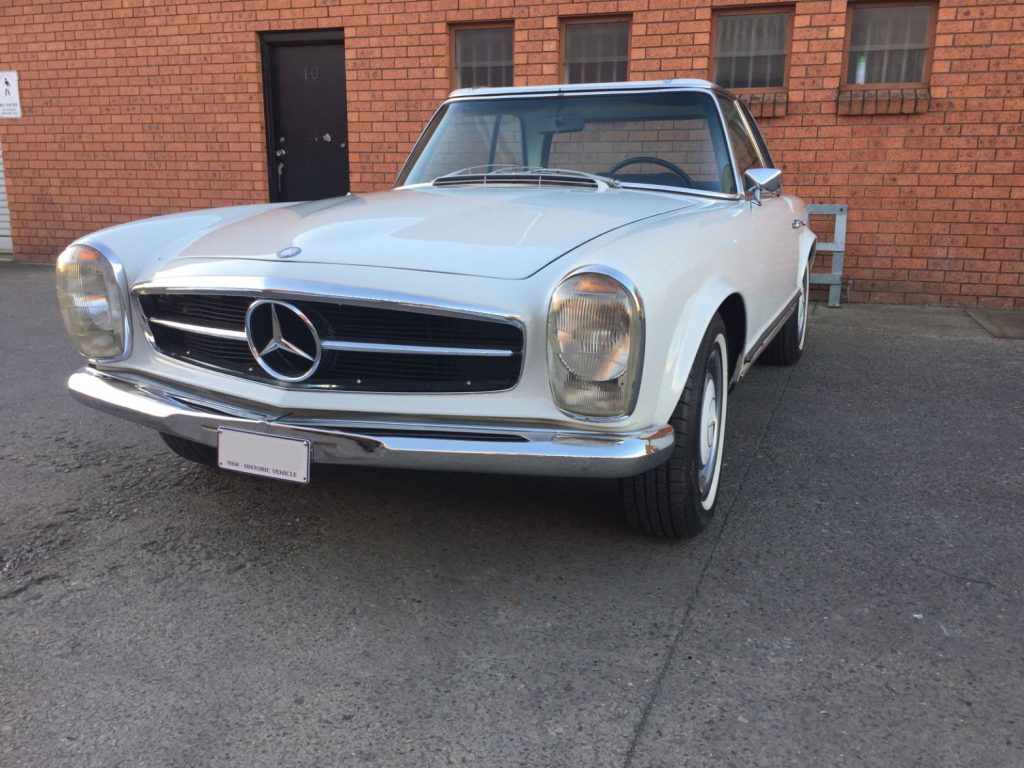 BEFORE
– Click on the picture below to view gallery –
AFTER
– Click on the picture below to view gallery –

"I really did not know how Riaan and the team pulled this one off.
I bought the car sight unseen from overseas and after receiving the car I realised that I had bought a very bad lemon.
There was just so much rust – rust everywhere.
The purchase was made and now I was stuck with a sixties icon, filled with rust.
I had to get someone reliable to turn my lemon into a unicorn.  I needed someone that knew how to repair large pieces of rust.
I am so glad that I found the guys at Inhim Restorations.
Riaan's team put all my concerns to rest. They did a magnificent job at fixing every sigle piece of rust. I received photos of the repairs during the process and I was confident that the work was done properly.
I was however also pleasantly surprised by all of the other work on the car. The new interior was absolutely great and the paintwork was perfect.
It is great to know that you can hand someone a large problem like my Pagoda and they will execute it effortlessly.
After buying a lemon one will understand that when you receive a restored car, registered and ready to drive you cannot be anything else than joyful and thankful.
I was so happy in my dealing with Inhim Classic Resto's. The guys were very professional, thorough and always kept me abreast of progress.
Thank you for turning a bad purchase into an enjoyable end product. You will certainly see me again in the future".
Want to restore your classic or sports car?
Contact us today to find out how we can assist in restoring your dream